Newsroom overview
Who They Are
A progressive online magazine that serves British Columbia and brings a B.C. perspective to national affairs
Location
Vancouver, Canada
Monthly unique visitors
600,000- 1 million
Number of members
3,600 monthly recurring supporters*
Percentage of revenue from membership
29 percent in 2019
It used to take The Tyee three or four months to plan one of its biannual crowdfunding campaigns, which brought in about 30 percent of its total membership revenue in 2019.
This left the whole team exhausted by the end of a campaign, and they didn't have much time to recover before they did it again. Now it takes them about a week.
Each campaign has its own theory-of-change, which can be summed up as "If (we take this action), then (this will change) because (there is a relationship between the two things)." That becomes the foundation for articles about the campaign and all the crowdfunding appeals.
This is how they've streamlined their approach.
*Although The Tyee considers its financial supporters to be members and engages with them in that way, they have not prioritized recurring payments and don't "cancel" members if it's been a year since they gave financial support. About 5,000 individuals have given between $1 and $5,000 to The Tyee in the last year.
Why this is important
The Tyee has only 12 full-time staff and only two people working on growth and revenue for the membership program full time, but their fundraising muscle makes them look much larger than that. Reducing the number of bespoke decisions is what makes that possible.
The Tyee has figured out what parts of a membership drive can be templated, giving them the time and energy to focus on the community-driven journalism that makes people want to support them year-round.
What they did
The Tyee runs two crowdfunding/membership campaigns a year, each of which typically raises between $25,000 and $100,000. These campaigns happen alongside ongoing, evergreen membership that appear at the bottom of articles and in newsletter drip campaigns. 
Publisher Jeanette Ageson runs through the following questions when she's designing a crowdfunding campaign: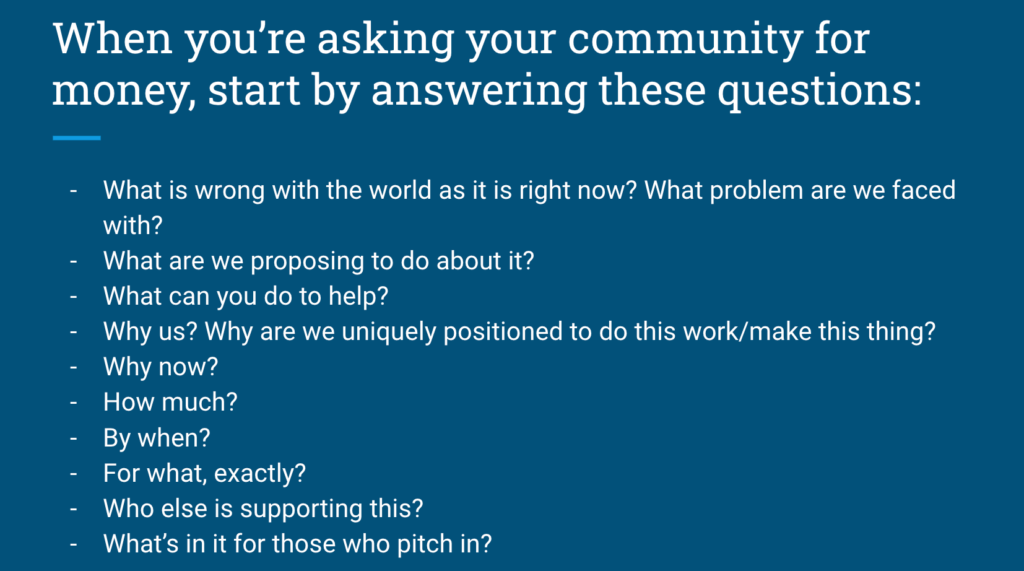 Next, Ageson crafts a theory-of-change for the campaign, which can be summed up as "If (we take this action), then (this will change) because (there is a relationship between the two things)."
Once the theory of change is finalized, it becomes the basis for all of the campaign assets. Every Tyee crowdfunding campaign includes the following:
The story
10 emails sent over the course of three weeks from different members of the staff (Here is her sample campaign calendar)
A social plan
A donation page that is updated to reflect the campaign
A fundraising video (produced once, and used every campaign)
Email drives most of the crowdfunding contributions, Ageson said. The Tyee sees social posts as more of a "high-fiving machine." There are social share buttons at the end of their payment processing flow to make it easy for supporters to publicize their support. The Tyee will retweet or reshare them and say thank you. They're part immediate recognition, part social content for the campaign.
The Tyee draws on the following storytelling formats throughout the campaign: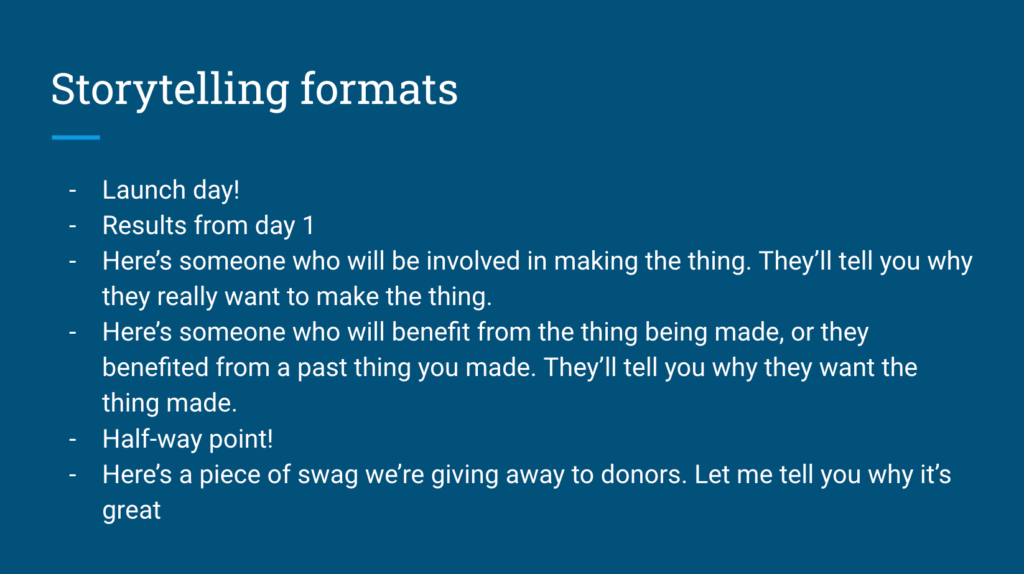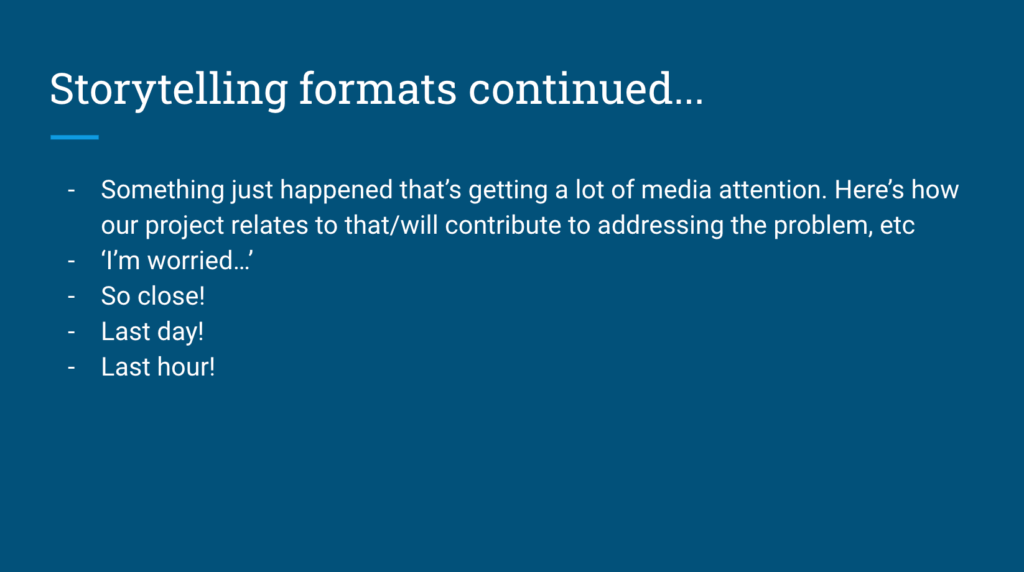 The rest of the year, The Tyee runs evergreen membership asks, which follow a more typical fundraising formula. Ageson sums the evergreen formula up as such: "We do good work. We did good work this year and we plan to do good work next year. We need your support to do it. Please send money. Any amount will do, and we'll use whatever we raise to do the good work you know us for."
Here is an example of an evergreen message that appears at the bottom of an article.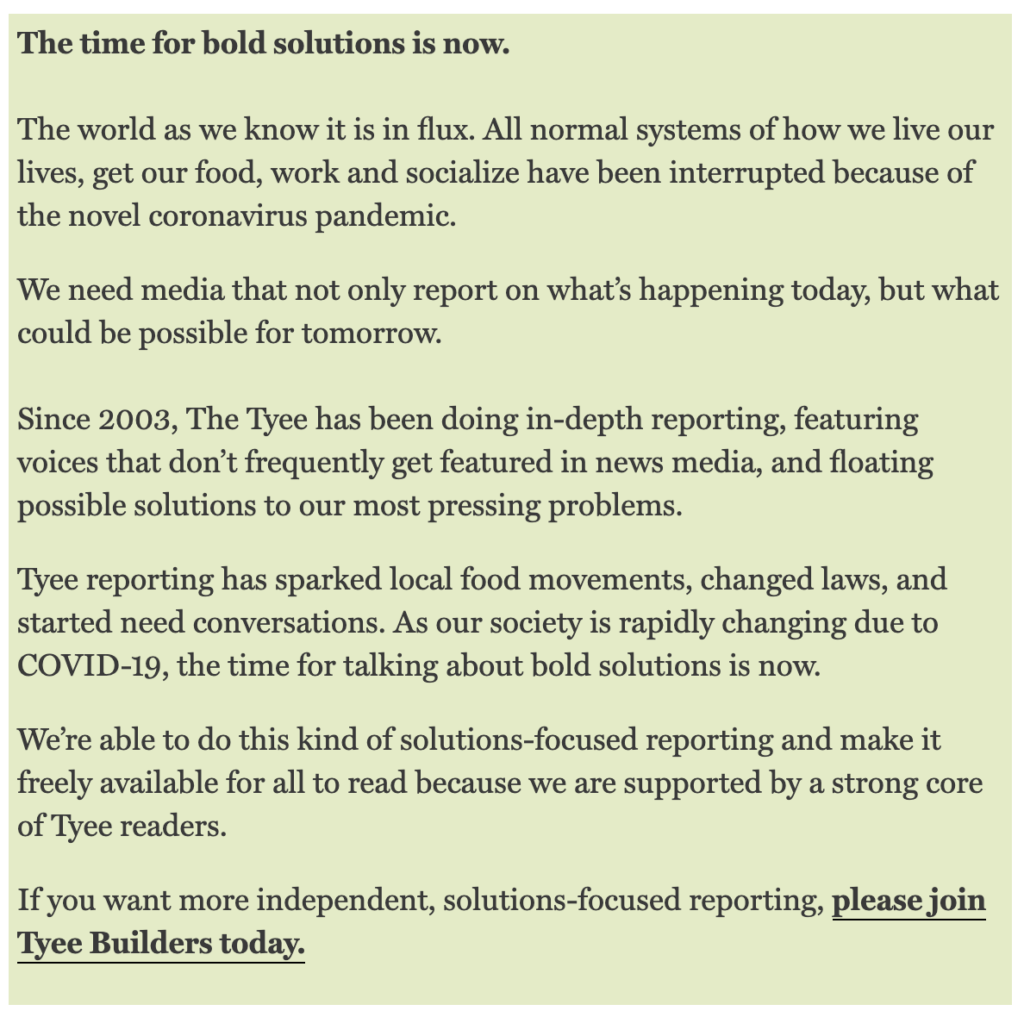 The results
From June 5 to June 24, 2019, The Tyee ran a campaign asking readers to help them raise $60,000 to support "reader-powered election reporting" on the 2019 national elections.
This is how Ageson answered her big picture questions for that campaign.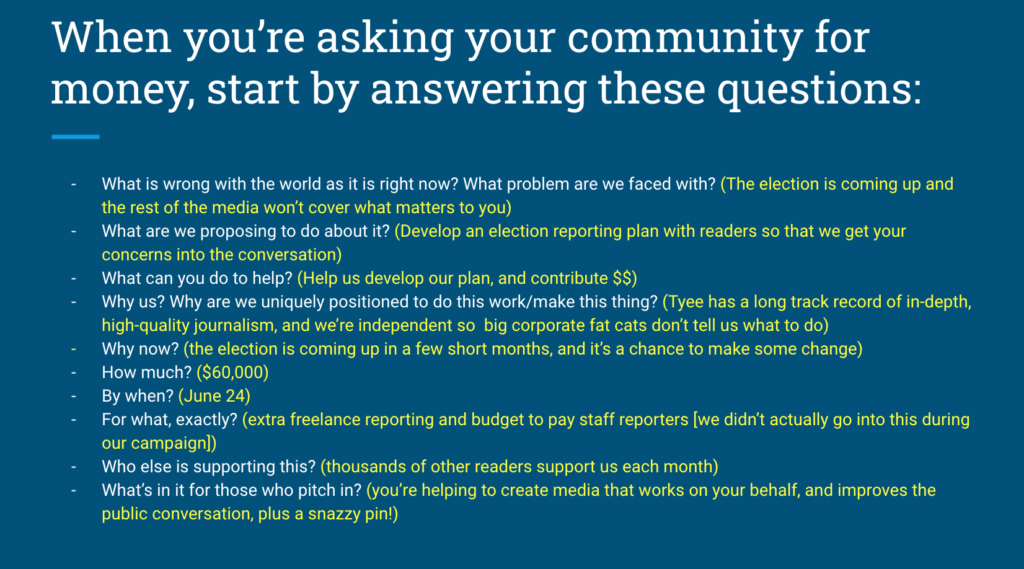 This is the theory of change Ageson articulated for the campaign:
"If we report on the election using reader questions, then voters will get critical information about where parties stand on issues that matter to them and make better decisions because we will be proactively seeking answers to questions that readers have prioritized instead of reacting to political party communications, polls, and scandals."
Here, you can see examples of the campaign assets:
They launched the campaign with the publication of the story, and a newsletter announcing it. Three weeks of emails from members of the team and retweets and shares of reader support followed.
The campaign raised about $75,000 from more than 1,100 supporters.
What they learned
Three weeks is just right. Ten crowdfunding campaigns later, Ageson has the following pointers:
Three weeks is a good length, and four weeks is probably too long
Have a start date and an end date and stick to them
Have a clear financial target
10 emails across the three weeks is a good number (See her sample campaign calendar here)
Every crowdfunding campaign has a "trough of anxiety" in the middle in which momentum wanes. Don't panic!
Your theory of change should be "credible and "something that your community will likely care about," Ageson says. She also offers the following advice: Be optimistic, don't be afraid to reach for big, audacious, goals, but also be realistic and respect the intelligence of people you are asking to help you."
Always report back. Ageson also stresses the importance of reporting back to members what their support has made possible before asking them for money again. "Everyone always overlooks stewardship. Build that into your plan right away. Don't consider 'asking' to be the end of your job, it's actually the beginning," she says.In addition to end-of-campaign report backs, The Tyee also publishes an annual report.
Doing this well requires involving the whole newsroom. Ageson has created templates for fundraising emails and regularly enlists the rest of the staff in writing them, particularly first-person appeals (for those, she directs them to advice from Marshall Ganz on the "story of me, us, now"). She also created a newsroom-wide Slack channel called #impact-moments where anyone who sees an example of their reporting out in the world having an impact can share it. These become data points to mention in crowdfunding emails and reports to members on the impact their support has had.
Key takeaways and cautionary notes
Evergreen and time-limited campaigns need explanation. Running time-limited campaigns like The Tyee alongside evergreen membership appeals can muddle understanding of what it means to be a member unless you are careful to be consistent in the language you use and to explain how the two are connected to each other.
Fulfilled commitments build trust. If you are not a household name like NPR, you will need to earn the trust of first-time financial supporters. The way to do that is show them that you fulfilled the commitment you made when you asked them for money.
Other resources