Newsroom overview
Who They Are
A journalism and storytelling organization that "illuminates dissent, unsettles dominant narratives, pursues justice and liberation, and stands in solidarity with marginalized people and communities in the South"
Location
Durham, North Carolina, U.S.A.
Monthly unique visitors
81,500
Total Revenue from membership
4 percent
Scalawag's theory of change is grounded in creating "rich connections among Southerners and throughout the South" That means that relying on newsletters alone to grow their audience and their membership is off the table, especially after transitioning to new leadership that looks more like the community members Scalawag strives to serve.
"In-person events allowed folks to see that this brand that really did read very white at first was in fact now being led by a more diverse team and therefore allowed or gave space for more diverse audiences to feel like they could connect with us," Executive Director Cierra Hinton said.
In spring 2019, they decided to make events a central component of their growth strategy in order to align it with their theory of change. They turned to agile methodology to template their approach to events and evaluate the return on investment.
Why this is important
Most membership growth tactics are centered on the email newsletter. That makes sense, because this method consistently delivers, and there's enough data for organizations to accurately estimate the return on investment.
But relying on one channel to grow your membership program can also limit the diversity of your members to those who use that channel as a primary means of communication.

This was an unacceptable tradeoff for Scalawag, which exists to center the voices of Southern people of color and has been focused on making its readership look more like the communities it exists to serve. But on a resource-constrained team, they knew they needed to make a revenue and outcome-informed case for investing in events over other channels. Their guidance can help you develop your own cost and revenue projections for using events as a membership growth channel.
What they did
In summer 2019, Scalawag began streamlining their event production. They decided to focus on two types of events, each of which would follow a template to reduce the amount of bespoke decision-making required for each event. (Disclosure: Scalawag began this process with support from Membership Puzzle Project's Membership in News Fund.)
The first event type is jubilees, which are about celebration, connection, and Southern joy. They are parties thrown in partnership with a grassroots organization, and usually feature performances by Southern artists. The second is content-focused events, which are about bringing Scalawag's journalism into the community for deeper conversations.
Scalawag also began distinguishing between loyalty-strengthening events and awareness events, which helped them set appropriate goals and tactics for each. A content-focused event with a big-name speaker with a large following would be an awareness-oriented event (in other words, it would likely include many attendees who are new to Scalawag and the focus might be on getting their email addresses, rather than pitching membership). A recent film screening, where members led smaller breakout discussions following the screening, is an example of a loyalty-strengthening event.
They focused on three cities where they already had strong relationships: Durham, N.C. (which is also their headquarters), Atlanta (the arts and culture hub of the south and where many of their donors live) and Birmingham, Ala. (where they had a strong record of journalism already).
"We've found that person-to-person connection goes a much longer way than just saying, 'We write about these things that happen to be in your area,' which I think is the difference between events and newsletter-oriented strategies," Managing Editor Lovey Cooper said.
They hosted their first jubilees in July 2019, coinciding with the launch of their membership program. (Previously, they offered the opportunity to subscribe to their quarterly print magazine and to donate.)
Since July 2019, they've hosted 13 events. Three of those were in Durham, three were in Atlanta, two were in Birmingham. Four of them were jubilees and four were content-focused events.
Five of those events were forced online due to the pandemic (four content-focused and one jubilee that included a members-only post-event Zoom dance party).
They began applying agile methodology to their events in early 2020 to streamline event production on a small team and measure impact more clearly, just as coronavirus forced all future events online. That entailed:
Planning events in series form, standardizing as many factors as they could so that they could accurately assess what influenced outcomes. Internally, they began thinking of each series as a sprint. (An example of standardizing most factors is hosting three jubilees, all following a similar structure but in different cities. This would be a series.)
Getting clear about their desired outcomes and what they want to be true at the end of each event, such as gaining 10 new members or getting 50 survey responses, which helped them develop a strategy for getting there
Assigning "ownership" of the event to a single team member and getting clear about the division of responsibility (They used the MOCHA framework)
Holding a retrospective after each series to evaluate outcomes, collect insights, and decide what to change for the next series (Template)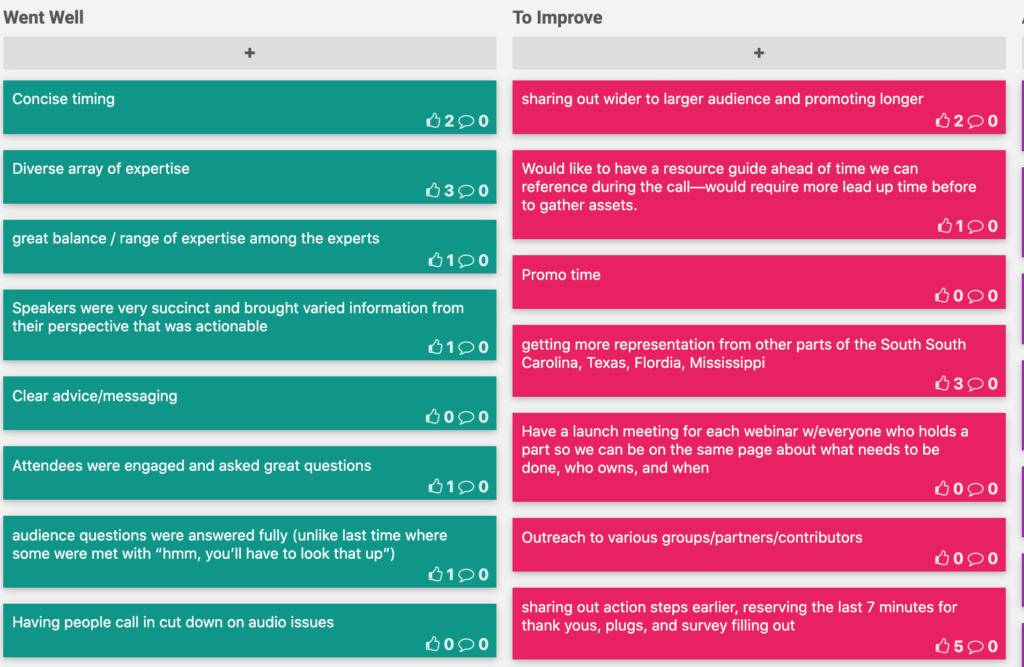 The results
Scalawag gained a couple key insights, that were true before and during the pandemic: They can reasonably expect to convert 10 percent of event attendees to members.
Assuming each member joins for at least a year at $60 a year (or $5 a month), recruiting 10 new members at an event is $600 in earned revenue. They can use this benchmark to evaluate whether they're at least breaking even.
People who become aware of Scalawag through an event skip the first few stages of the audience journey and can be asked to join sooner. Because Scalawag always has at least one event partner, each event brings in attendees who are new to Scalawag – essentially free advertising. The intimacy of the events puts those people past the first few steps of the audience journey by the end of the night.
Event attendees who don't join are still inclined to make a one-time donation or pay a door fee, which helps to subsidize the cost of the event.
"News outlets buy email addresses and pay for advertising. Doing an event literally accomplishes those, and also creates more content and creates more community. If 100 new people showed up, you just purchased 100 new email addresses," Cooper explained.
Scalawag follows each event with a three-email series thanking people for attending, sharing related content from the archives, and sending an event recap – then inviting non-members to join. After events they also target people who have been with Scalawag awhile but still haven't joined. They see event attendance as a strong indicator that a person is ready to be asked.
The events gave Scalawag a chance to reintroduce itself after a leadership transition. They were founded in 2014 as a Southern media organization led by a white non-Southerner, but by 2018 that was no longer the case. Everyone in a leadership role now is from the South, and most identify as women of color. This reintroduction was critical to gaining the trust of community members who have had negative experiences with other news organizations.
"In-person events allowed folks to see that this brand that really did read very white at first was in fact now being led by a more diverse team and therefore allowed or gave space for more diverse audiences to feel like they could connect with us," Executive Director Cierra Hinton said.
What they learned
They learned to ask people to join before, during, and after the event. At their first events, Scalawag only asked attendees to join once, near the end of the event, and as a result converted below their 10 percent baseline. Now they begin asking people via email between the time of registration and the event itself, as well as during the event and in follow-up emails, and have gained several members ahead of each event as a result.
They learned to leave room for organic connections. They had too many speakers at some of their early content-focused events, which left little time for people to engage with each other. A critical part of skipping the first steps in the audience journey for new-to-Scalawag people is that they leave the event feeling like a part of a community. Too many speakers makes that challenging.
Scalawag feels confident that this event-first growth strategy delivers as much as, and possibly even more, than a newsletter-first strategy. The 10 percent conversion rate, the continued growth in new audience members, and the sped-up audience journey have convinced them of that (their member conversion rate from newsletters averages about 5 percent). It also creates editorial content and forges new relationships that newsletters would not do.
The agile methodology process allowed them to greatly decrease the amount of time spent on planning, and freed up time and mental capacity to think about how to be more responsive to the community – especially once coronavirus became a factor to contend with.
Key takeaways and cautionary notes
You can measure events – and make them more routine without making them boring. Membership Puzzle Project frequently hears from newsrooms that events still feel a bit squishy and mysterious, and that they struggle to determine whether they're "working" – or what "working" even means.
This approach from Scalawag shows that events can be templated and measured for effectiveness, just like newsletters or any other more conventional "product" produced by a journalism organization. It also shows that agile methodology can be applied to far more than conventional product development.
Supporting diverse audiences isn't just about 'feeling good.' Hinton stresses that investing in reaching diverse audiences is not a charitable undertaking for Scalawag. It is their reason for being – and it also makes business sense.
"That also speaks to this larger thought around capturing diverse audiences. [People say] 'Oh, we should do that work because it feels good' or 'Because it's the right thing to do,' which are both true," Hinton says. "But also there is revenue to be earned from that… We have actually seen implementing this strategy was leading to more revenue than we were receiving previously."
Other resources