Newsroom overview
Who They Are
The Bristol Cable is a member-owned cooperative news organization in Bristol, U.K.
Membership program launched
2014
Monthly unique visitors
50,000
Percentage of revenue coming from membership
35%
The Bristol Cable is a British member-owned cooperative news organization. As owners, members are legal shareholders and therefore must be consulted when making certain strategic decisions that affect the organization. One such decision is what kind of advertising the Cable will accept.
Initially the Cable decided to address that with an "Ethical Advertising Charter" that included types of companies and organizations from whom it would accept advertising from. But that ended up being too restrictive, so in 2017 they worked with members to amend the charter, focusing instead on criteria for what kind of advertising the paper would accept and how it would be presented to ensure that it aligned with the Cable's values.
The revised Ethical Advertising Charter helped the Cable balance the need to include its members in the decision-making process with the need to make daily operational decisions in an efficient manner that also isn't burdensome for members. This case study outlines the process of developing the charter and applying it to advertising decisions.
Why this is important
Like any news organization, the Bristol Cable wants to ensure diversified revenue streams to support and sustain its journalism – and with a dedicated local audience for its print newspaper, the Cable sees advertising as a necessary part of its revenue pie.
But as a member-owned cooperative, the Cable must ensure that its member-owners have a voice in decision-making – and that includes ensuring that any advertising it accepts is in line with its values as an organization and supported by the majority of its members.
Previously the Cable had a list of organizational types that member-owners had approved accepting advertising from, but the staff found that relying on a list was too limiting and prescriptive, while also not capturing all factors.
The Ethical Advertising Charter was amended to instead lay out guidelines for making advertising decisions, which the Cable team can then apply to each individual decision.
Although few news organizations are owned by their members and therefore must invite them into decision-making, more newsrooms are choosing to invite members into decision-making. The Bristol Cable's solution for balancing the need to make individual decisions quickly while still honoring its member-owners' values is instructive for any newsroom.
What they did
From the outset, The Bristol Cable recognized the importance of diversifying its revenue streams, which is why it decided to accept advertising.
However, they put strong guidelines in place for advertising: advertisements only run in the Cable's quarterly print newspaper, not online or on any digital platforms, and are limited to only five pages for every 40 that the Cable publishes.
Today the majority of the Cable's funding comes from grants, but about 35 percent of its revenue comes from membership and another 5 percent or so comes from advertising, according to Adam Cantwell-Corn, the Cable's co-founder and coordinator.
As a mission-driven publisher, Cable wanted to ensure that the ads it accepted were in line with its editorial values. So at the Cable's 2016 Annual General Meeting, the Cable's member-owners voted to put in place a list of organizational categories that they found acceptable and from which the Cable would be able to take advertising. (The Annual General Meeting is a yearly gathering where member-owners elect a board of directors, approve a budget, and weigh in on key organizational decisions.)
But it quickly became apparent that the 2016 policy was too specific, and the list was not serving its purpose.
So the Cable team brought the issue back to its owners at the Annual General Meeting in 2017, the following year. Together, they decided to draw up a principle-based advertising policy that the Cable staff could apply to individual advertising decisions as they arose. Cantwell-Corn said the message from members was clear: they trusted the operations team to apply those principles to decisions the way that members intended.
The result was the Ethical Advertising Charter, which publicly explained Cable's policies toward advertising. The charter has three primary sections: editorial integrity, advertisements, and decision making. 
The editorial integrity section explains that all advertising will be clearly labeled and separated from editorial coverage. It notes that the Cable will "ensure that its editorial content is not influenced by advertisers."
The advertisements section of the charter details what kind of ads the Cable will accept. The charter states that the paper will seek to run advertisements that:
"promote social and cultural events and activities that may be of interest to its general readership;
products and services that are of direct benefit to local citizens and the city's economy and environment;
such other adverts as are considered to be in line with the Cable's ethical stance especially those from independent local businesses and third sector organisations."
The decision-making section explains that all determinations about advertising are delegated to the Cable's advertising team to make in line with the member-approved guidelines.
The results
The Cable staff has found the charter easy to apply, even when tough decisions arise.
In early 2020 Bristol Water, the city's public water utility, reached out to the Cable about placing an ad. The Cable's advertising coordinator flagged it for the leadership team because of "excessive executive pay, dubious tax practises and unacceptable price increases," and they assessed the company against the Ethical Advertising Charter. 
The editorial staff pulled Bristol Water's annual financial reports and tax filings. They thought that high rates of executive pay and repeated attempts to raise water prices violated the Cable's cooperative values, and thus were in conflict with the charter. 
"We believed this would compromise us," said Lucas Batt, the Cable's membership coordinator.
The staff felt comfortable making this decision without consulting members because they had the principles outlined in the charter to guide them.
Then, in November 2020, Cantwell-Corn published a story about the utility's attempts to repeatedly raise water prices in Bristol.
Along with the story, the Cable explained to readers that they had rejected an ad from Bristol Water. The charter stipulates that when the advertising team decides not to proceed with an advertisement, it must provide an explanation to the advertiser and to the public "where appropriate."
The Cable also turned it into a membership appeal.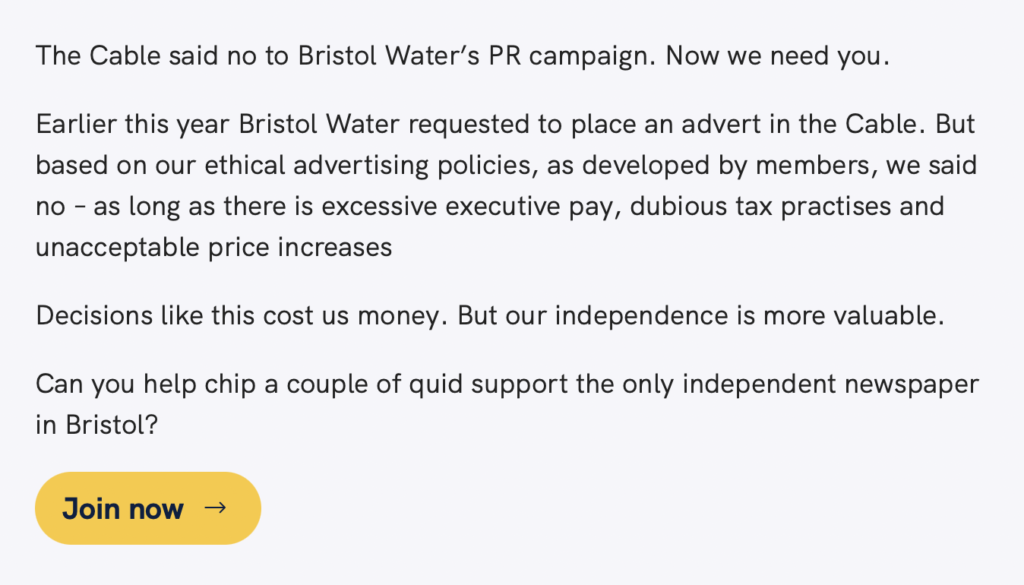 Cantwell-Corn said the appeal attracted "a number of people" to join, but he noted that it was "part of the overall sweep of communications that we're doing that are trying to persuade people to convert members."
The Cable has rarely had to invoke the charter since 2017. Cantwell-Corn attributed that to two key reasons:
The Ethical Advertising Charter is listed on the Cable's website, so that helps filter out organizations who think they wouldn't fit the bill.
There are lots of places where local organizations can advertise their goods or services — as all legacy news organizations know, it's often cheaper and more effective to advertise via Facebook or Google where you can target specific audiences.
Cable members support the publication because they believe in what it stands for, and Cantwell-Corn said members were generally supportive of the decisions, such as the decision to take advertising that aligns with their values.
"We're living in an imperfect world," he said. "We have to have strong ethical principles, but we also make the compromises we need."
What they learned
Principles can be better than specifics. The 2016 Ethical Advertising Charter was just a list of organizational categories that the Cable was approved to accept advertising from, which didn't do the Cable team much good when a company approached them that wasn't on the list or was in a grey area. The revised charter instead outlines "principles and parameters" that can be applied to any company. This has given the document much broader applicability and removed the need to go back to members on the same issue repeatedly.
The advertising charter can be a selling point. While the Ethical Advertising Charter does provide some limitations, including potential revenue opportunities, it also is a "mark of quality," Cantwell-Corn said. And the Cable leans into mission alignment when they pitch advertisers.
The Cable has become a go-to for companies and organizations that are trying to present themselves as more ethical to their consumers, such as green energy suppliers, NGOs, and local businesses.
"That means we can say to them as a value proposition to the advertisers that, within the boundaries we have set…, your advert will have prominence and will have quality pieces of editorial around it. The other adverts that are present also are validating the quality and the brand validity of your own company by being in The Cable," Cantwell-Corn said.
Key takeaways and cautionary notes
The core values you hold could limit existing revenue opportunities, but if you lean into them, they can also open up new ones. There's a good chance there are companies and organizations out there who have similar values and want to ensure their advertising dollars go to like-minded organizations. By refocusing your pitch to advertisers on what you stand for and why it could be beneficial to align themselves with you, you might attract advertisers that a more transactional pitch might not have.
Establishing trust is not a one-time action. Inviting member-owners to co-write the Ethical Advertising Charter was a smart way to establish or strengthen trust in the Cable's decision-making. But if the Cable hadn't consistently applied the charter after it was approved, owners' role in the drafting wouldn't have made a difference. Each time the Cable properly applies the charter to an advertising decision, it is giving member-owners yet another reason to trust the Cable.
Other resources