Newsroom overview
Who They Are
A conservative news startup that serves audience members primarily through newsletters and podcasts
Location
Washington, D.C., USA
The Dispatch launched in 2019 as the first news organization to publish entirely on Substack, the email-first platform that is primarily aimed at serving individual writers.
The mostly member-funded publication publishes primarily through email newsletters and podcasts. The team knew it needed a publishing platform that supported both content types and would allow them to easily process member payments – and the founders wanted to do it cost-efficiently to extend their runway.
The Dispatch didn't care as much about having a website as it did about having a seamless newsletter, podcast, and payment experience for its audience members. So the founders turned to Substack and worked with the team there to tweak the platform to meet The Dispatch's needs. Although they had to make some tradeoffs, such as giving up a personalized landing page, it's been able to achieve its main goal: keep the tech stack as simple as possible so that its small team could focus on its editorial coverage and serving members.
Why this is important
Because it was launching into a competitive political media landscape with limited resources, The Dispatch knew that its coverage would need to be highly differentiated in order to stand out. It strived to make its tech choices as simple as possible so the team could focus on its editorial coverage and be sure members would have a seamless experience.
"We decided that we'd launch a little smaller, and we would really make the website the third most important of the editorial products, with the first two being newsletters and podcasts sort of tied for No. 1," Hayes told Nieman Lab. "In retrospect, we're very glad that we had that flexibility and that we didn't just stick to our original plan and learned along the way."
No solution is perfect, but the Substack platform got The Dispatch most of where it wanted to be. And because they were the first news organization to work with Substack, the company has been responsive to The Dispatch's needs, building out some new features and making some accommodations on to their platform. The Dispatch has also developed some of its own temporary workarounds.
This case study is an example of an organization that chose an out-of-the-box technological solution and made it work for its needs. Being clear about your priorities, like The Dispatch was, will allow you to make a clear-headed decision about what is worth time and expense, and also potentially empower you to lobby more strongly for what you need to make an out-of-the-box solution work for you.
What they did
When The Dispatch debuted in 2019, it wanted to focus on reporting.
"We've just said to people we want to provide you with content, really good content with reporting, and we otherwise want to leave you alone," Hayes told Nieman Lab.
That's why it turned to Substack: the platform handled email publishing, podcast hosting, and payment processing, the core elements needed to run its membership program.
"It's an interesting experiment that we have newsletters as our core product, and the website is the less important product," Hayes told us.
Like with all Substack publications, when you go to The Dispatch's website, the first screen is Substack's standard newsletter call to action that also allows readers to skip through to the content. This is a sharp departure from the comprehensive websites that most news organizations launch with.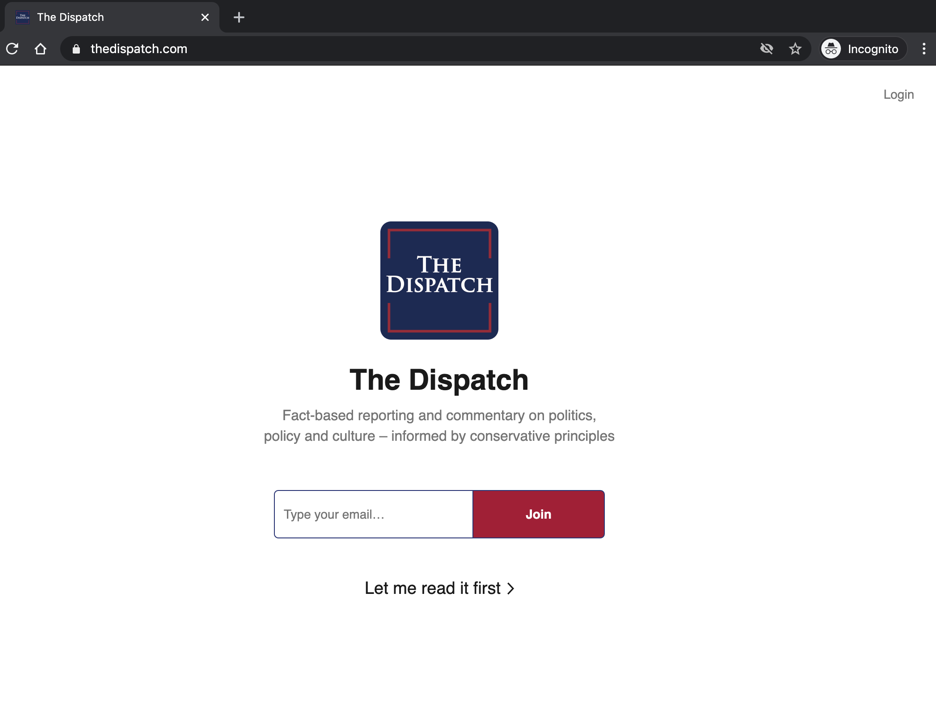 By clicking through to "let me read it first," readers are taken to a modified Substack homepage that features a top story and then a stream of content. Unlike most Substacks though, their homepage lists the series of newsletters and podcasts that readers can subscribe to. The Dispatch publishes about three stories per day.
The Dispatch had to give up a few features to work with Substack, though. Because Substack is designed for single writers, it doesn't have a sophisticated analytics tool and doesn't allow users to segment email audiences. This prevents The Dispatch from targeting different elements of its audience with membership appeals.
The Dispatch built some workarounds with Google Analytics and hired an outside consultant who developed a dashboard that enables The Dispatch to segment a bit and understand a bit more about its audience.
Meanwhile, Substack made some accommodations to support The Dispatch, such as the more extensive landing page mentioned above that integrates its podcast and newsletter operations. The Dispatch also has its own URL that doesn't include Substack. (Most Substack users have a URL that reads name.substack.com.)
And The Dispatch said Substack plans to add improved analytics tools in a few months, which made the wait worth it.
Substack has also adapted to The Dispatch's language and mission. 
The results
At Substack's recommendation, The Dispatch initially offered all of its newsletters for free as a way to gain an audience and build loyalty before asking people to become members. By the time it made some of its newsletters member-only in February 2020, it had gained 53,000 newsletter subscribers.
The Dispatch began its membership program by offering lifetime memberships at its soft launch in October 2019. The lifetime membership costs $1,500, which comes with invitations to special events. In early December, they began offering annual memberships. The Dispatch now has a membership program that costs $100/year or $10/month.
The Dispatch has 16,000 paying members today, generating more than $1 million in revenue the first six months. Substack takes a 10 percent cut of the membership revenue.
Today, The Dispatch offers eight member-only newsletters, including a daily morning roundup and a weekly overview of the best news. It also produces three podcasts. They've maintained two free newsletters and plan to add more over time.
The Dispatch's 2020 goal was initially 2,000 paying members. When lifetime membership took off in the fall, it revised its goal to 4,200 paying members. With 16,000 members, it has surpassed even those initial projections.
"Much of the growth that we've seen at this point has been organic," Hayes told us. "We have not yet set our year end 2021 goals. We've so blown past our year end 2020 goals."
What they learned
Start lean. The Dispatch initially planned to launch with a staff of 25 to 30 people and a traditional website, but given the challenges of the news industry, the outlet decided to just start publishing and grow from there. By utilizing the Substack platform, it was able to get immediate feedback from its members and continue to tweak its offerings in a cost-effective way.
Platform as a partner. Hayes emphasized The Dispatch's appreciation of working with Substack and getting to learn from their experience with many newsletters. Without Substack's suggestions, it may have not started out free, gained its organic growth success, or received the newsletter success. In return, Substack also recognizes Dispatch's opinions and feedback, and the two organizations have had an effective partnership.
"The Substack folks have done a good job of reaching out to other writers and trying to help them build and come up with ideas, and one of the things that they do is they share and see from their perspective what has worked," Hayes said. "They gave us a bunch of ideas about how to use our Twitter accounts to build out membership."
Key takeaways and cautionary notes
Launching on Substack allowed The Dispatch to outsource its core tech concerns and prioritize its journalism, which is its core membership offering. Substack didn't offer everything the site wanted, but it was enough to provide a useful user experience to its members.
Know your priorities. Every technical decision has tradeoffs. Being clear about your priorities will help you make smart technical decisions that serve your mission and your members' needs. For The Dispatch, a good user experience with newsletters, podcasts, and payment were more important than having an extensive homepage. Knowing that helped them feel confident choosing substack.
Know your worth. As the first media company on the platform, The Dispatch is valuable to Substack, too, and has been able to request some accommodations. "We're experimenting as we go," Hayes told us. "Every time Substack says in conversation to us 'subscription,' we say 'no, members!'"
Other resources