Newsroom overview
Who They Are
A local news organization that covers public education in Chicago, Colorado, Detroit, Indiana, New York, Newark, Philadelphia, and Tennessee
Location
Multiple locations in the U.S.
Membership program launched
2018
Monthly unique visitors
743,000
Percentage of revenue from membership
1 percent
When thinking about their audience development goals, Chalkbeat faced a challenge: how could they make connections between product and editorial staff? When an audience or member project comes up, who should own it, and how could they bring relevant expertise from across the newsroom into the problem-solving process? In 2019 they set up an "AudSquad," made up of their director of earned revenue, editor in chief, chief strategy officer, senior marketing manager, director of product, and engagement editor. This group comes together every two weeks to review their overall audience goals and take steps to connect Chalkbeat's editorial, engagement, membership, and sponsorship strategies.
Why this is important
Hiring new staff for your membership program is not always possible or necessary; the skills you need may already exist in your newsroom. But you may need a new way to bring them together. Chalkbeat's AudSquad is an example of how to establish an interdisciplinary strategy team to solve large problems and create holistic and scalable solutions.
What they did
Chalkbeat's AudSquad is comprised of five senior leaders from across editorial, product, and the executive team. It includes:
Sky Barsch, Director of Earned Revenue
Bene Cipolla, Editor in Chief
Alison Go, Chief Strategy Officer
Kary Perez, Senior Marketing Manager
Catherine Green, Engagement Editor
Becca Aaronson, Director of Product
The group meets every two weeks against the backdrop of a shared roadmap for the year, with annual goals and key metrics that they track. Director of Product Becca Aaronson told MPP AudSquad meetings are primarily used to talk through long-term audience initiatives and challenges (How do we create new products that teachers/parents would need to build a new relationship? How do we have a meaningful relationship with members? How can we move a casual reader through the membership funnel?) and how to make the best use of staff, skills, and resources at various points in a project.
For example, when working on redefining their newsletters last year, Senior Marketing Manager Kary Perez did much of the initial strategy – competitive research, best practice principles, how to meet editorial and membership strategy needs – before Engagement Editor Catherine Green took it over to lead implementation and training in the newsroom. This collaboration and handover was facilitated via the AudSquad.
The Squad doesn't use a framework such as sprints to plan its work, but keeps its format more informal. After setting annual goals together, the Squad keeps a rolling agenda where they can add topics for discussion in between meetings. Aaronson said they keep their annual goals and key metrics in mind, as well as the fluctuating workload of each Squad member. "For the most part we have a good sense of how overwhelmed each person is with their current level of responsibility and that's the main thing we use [to organize tasks]," she said.
The results
Establishing the AudSquad has allowed Chalkbeat to bring ideas from the newsroom and other parts of the organization to one central place where they can hash out priorities for member-related projects, and work out how best to support them. In the absence of a dedicated audience development team, this format has allowed them to make the best use of the skills already in their organization.
A major challenge the Squad tackled in its first year was to redefine Chalkbeat's audience funnel by creating new goals and metrics against which to judge their progress. The motivation behind this exercise shows why it was important to have an interdisciplinary team in place: they wanted to find metrics that would hit both their editorial ambitions and the mission of their organization, and allow them to package these in a way that make the case for Chalkbeat to potential sponsors, advertisers, or funders.
The AudSquad selected four buckets for its funnel. Perez outlined them as follows:
REACH the education community, with a focus on educators, parents and students.
ESTABLISH TRUST through quality journalism, and build a community of informed and loyal readers.
INFORM AND ENGAGE our audience by providing opportunities to contribute to and connect with our journalism.
IMPACT education communities by elevating the perspectives of people of color and other marginalized communities, so that their lived experiences of inequity inform the decisions and actions that lead to better outcomes for children and families, especially those in low-income communities.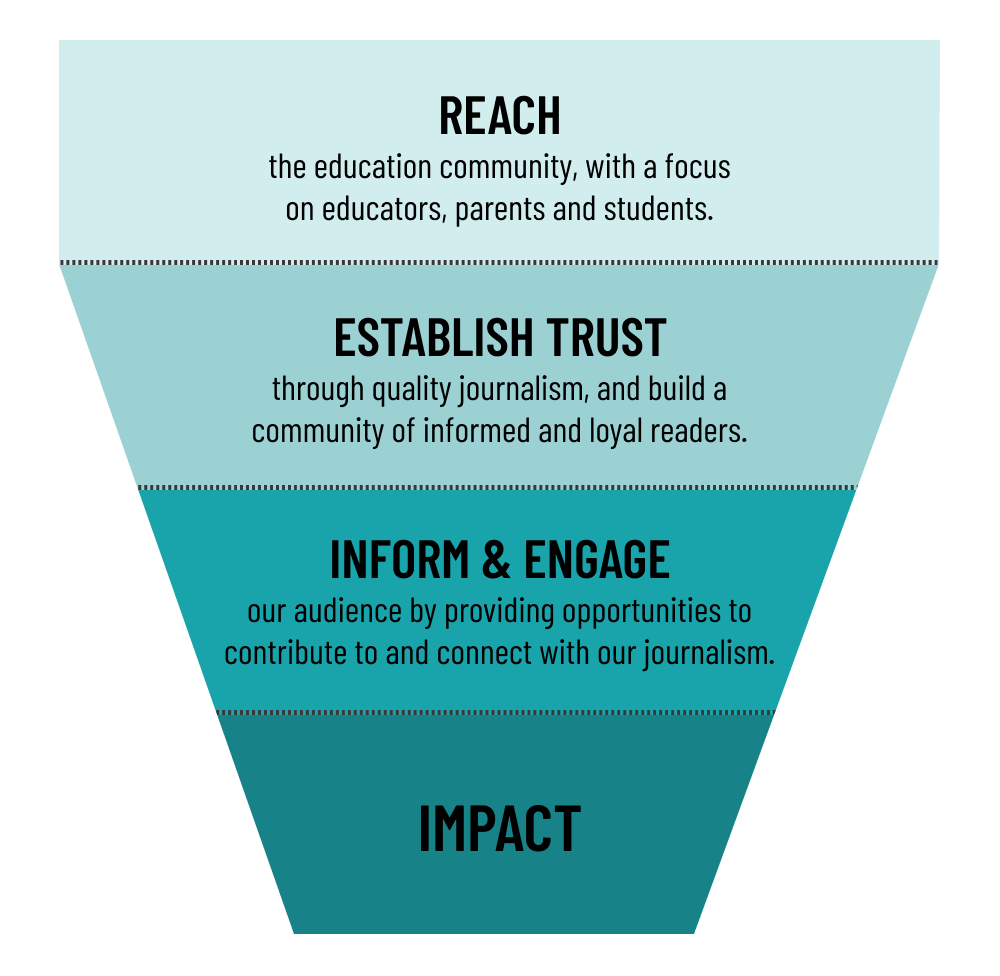 They then selected appropriate metrics for each goal. For example, for Reach (the top part of their funnel), key metrics include total pageviews, total users, average pageviews per story, and Facebook, Twitter, and Instagram follower counts. Their strategies/projects to increase these key metrics include local market social boost campaigns and newsroom partnerships to help boost reach. See the table below for details of the key metrics for each of their audience funnel goals.
Audience Funnel
Key Metrics
Strategies and projects
Reach
– Total pageviews
– Total users
– Avg pageviews per story
– FB-Twitter-Instagram follower counts
– Local market social boost campaigns (CG)
– Newsroom partnerships that boost reach (BC)
– Build audience around First Person and How I Teach (BC)
Establish Trust
– # of Loyalists / Returning users
– New newsletter sign-ups (CG)
– New members (KP)
– New ESP(KP/CG)
– Paid promos for newsletter signups (SB/CG)
– Evaluate current newsletters (CG)
– # of members by EoFY (KP)
Engage
– Active newsletter readers (CG)
– Number of callouts + events
– Engaged reader actions (callout respondents + event attendees)
– A/B testing subject lines (and other factors) in Mailchimp
– Tracking system for callouts, polls, event attendance (CG)
Impact
– Impact numbers
– Newsroom owns this (BC)
Perez said the AudSquad is well placed to carry out this type of work because: 'We're a cross departmental team that understood we'd need newsroom, engagement, revenue, and marketing collaboration in order to prioritize this work, create strategies, and make quick decisions to grow and deepen our audience."
What they learned
It takes trust to work cross-functionally. Perez said that the AudSquad's first year was about building trust with one another and creating priorities for their work together. She said this started at the top of the organization. The fact that Editor in Chief Bene Cipolla, Chief Strategy Officer Alison Go, and the larger leadership team supported this work enough to actually be part of the AudSquad, and ensured its members had the space to ask one another questions and work together, helped establish trust and created the space to focus on audience growth. Now that trust is established, they can move more quickly and effectively.
Someone still needs to keep tabs overall. Aaronson added that in terms of managing a cross functional set-up like this, it can be helpful to have a couple of people within the team who keep tabs on progress and feed that information back to the executive level for further prioritisation.
Key takeaways and cautionary notes
Cross functional teams can be an effective way to organize your membership work. They ensure the work is distributed appropriately across your organization depending on where the relevant skills lie, and create a healthy system for transferring ideas through multiple departments – top down, and bottom up.
Aaronson cautioned that having specific people to technically administer a membership program is key, but if it's going to be core to the business model of your organization, it has to be part of everyone's brand ambassadorship, and a set-up like the AudSquad can help spread that culture.
"It's essential to identify what are the operational things that need direct resources applied for them to be effective, and membership is definitely one of those things where if you don't put someone specifically on membership it can fall through the cracks… You might have someone whose core responsibility is to define the membership strategy, the funnel, the pricing and the tiering, what is the language for campaigns, how are we re-engaging members, how are we giving the benefits – everyone [else] in the newsroom is responsible for being brand ambassadors for the top of the funnel," Aaronson said.